DB-Print Data Acquisition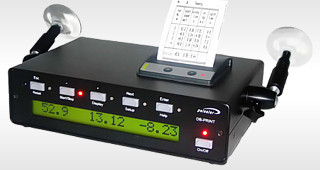 The measuring system DB-Print is suitable for general acceleration and braking tests. In addition, it allows the "one man test" for complete braking cycles by acoustic notes. The results will be issued on the display and on the integrated printer. The DB-Print has been convincing for years through its simple operation and installation.
The DB-Print is a data acquisition and evaluation system for recording measurement data on the measuring section and for immediate evaluation with the DBSSI software. The program controls the DB-Print via the RS232 interface, reads out the measured values and stores them on a notebook connected to the vehicle. The system is used together with a Peiseler wheel or a non-contact speed measuring sensor.
Applications:
• Acceleration tests
• Brake tests
• Very easy handling
• Fast installation
• Paper printout
• Memory: SD-Card