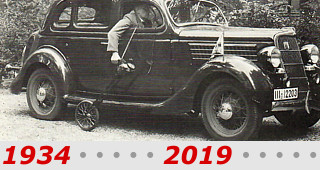 The name Peiseler is still called and associated in one breath with the in 1934 patented Peiseler wheel. Invented by Dr. Ing. Gottlieb Peiseler is that so-called 5th wheel in our portfolio represented till today. The first user of the Peiseler wheel was Ferdinand Porsche.

1946 Peiseler has been taken over by his son Götz Peiseler. The measuring technology has been constantly optimized with data acquisition system, customized accessories, corresponding special software and display devices for development of future requirements.
Today Peiseler products are used in the automotive industry, at universities, at facilities like TÜV and ADAC, as well as rail vehicles and agricultural operated. As a system provider we are expanding our portfolio and offer additional solutions in the areas performance tests, driving dynamics, advanced driver assistance systems, vehicle testing and vehicle development.

Our fast, reliable processing of service shows our claim extremely customer-oriented and with a personal touch commitment to act. With our internal quality management we offer you extensive services.
• Expertise and knowhow

•
for more than 80 years
• Personal dedication
• Fast response times
• Innovative developments
• Trusted system provider
• DIN EN ISO 9001:2015

•
certified since January 2023
DIN EN ISO 9001:2015 certified since January 2023